Exploration
More games, more fun !
Categories
This website
© 2003-2005
Eduardo A. Robsy Petrus
© 2006-2011
The MSXDEV Team
© 2012-2013
MSX blue
As indicated in previous news, we'll give also news on other current MSX contests. It seems me especially important so any visitor of this website can also make comments about games announced or released in these contests.
We start this kind of infos by the first game announced for the #msxdev Compo 2012 : KNT is an ambitious MSX2 platform game with support for MoonSound, OPL3, MSX-AUDIO and MSX-MUSIC ! It's developed by Z80ST-Software, known for his excellent QBIQS, an MSX1 version of the great MSX2 Quarth game. This time, he has switched completely to MSX2 and will show all his knowledge of the different soundchips with a ROM of only 48 KB !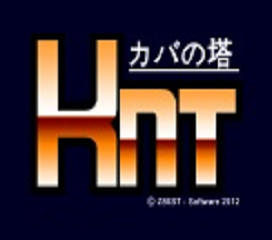 KNT means Kaba no Tou or The Tower of Kaba. Who is Kaba ? Well, if you know the excellent Spanish website Konamito.com, you should know that Kaba is the nice mascot of this website. For sure, Konamito webmaster will enjoy this game ! Maybe the game is almost finished, but it will only be available for downloading in January 2013.
3 Comments