RESULTS OF THE CONTEST
| | | | | | | |
| --- | --- | --- | --- | --- | --- | --- |
| General Ranking | | % | | Gameplay | | |
| 1 – Jailbreak | | 69,3 | | 1 – Jailbreak | | 18,3/28 |
| 2 – Moron van der Slut | | 57,3 | | 2 – Moron van der Slut | | 16/28 |
| | | | | | | |
| Graphics/Visuals | | | | Originality | | |
| 1 – Jailbreak | | 14,3/18 | | 1 – Jailbreak | | 12,3/18 |
| 2 – Moron van der Slut | | 10,7/18 | | 2 – Moron van der Slut | | 10,3/18 |
| | | | | | | |
| Musics/SFX | | | | Polish | | |
| 1 – Jailbreak | | 13,3/18 | | 1 – Moron van der Slut | | 12/18 |
| 2 – Moron van der Slut | | 8,3/18 | | 2 – Jailbreak | | 11/18 |
By comparison with first edition of the contest, the games have still have been judged about 5 aspects, but more importance has been given to the gameplay. On 100 points, there were 28 points for the gameplay, the remaining 72 points were reserved for the 4 other categories (graphics/visuals, musics/sfx, originality, polish), what means 18 points for each of these criteria.
The comments of the 3 members of the jury (Manuel Pazos, SuperCobra and mars2000) have been gathered for each game, but their order is always changing . So you will have a little idea of the criteria that have guided the jury's choice !
1. Jailbreak – 69,3 %
Big winner in almost all categories (except polish)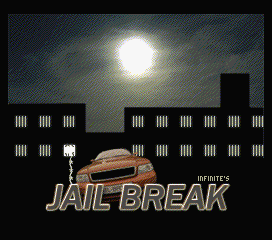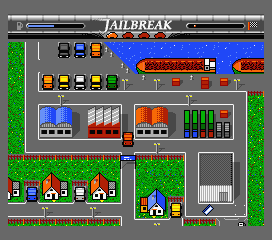 Graphics/Visuals – 14,3/18
- Nice backgrounds, but the vehicles look a bit weird. The blur effect in the intro reminds me the one of X-Tazy demo.
- The maps of the different levels are designed with care for nice colors and good surprises !
- Great graphics, a lot of details, well done.
Musics/SFX – 13,3/18
- Entertaining sounds and music, adds to your adrenaline while the cops try to catch you!
- The intro theme has some effects that fits in the game genere. The ingame musics create the needed action atmosphere. If they were just a bit more catchy, they would be perfect.
- Good musics that give a good atmosphere to the game.
Originality – 12,3/18
- Although there are others chase-maze car games, this adds some features that made it different.
- The game is very original, as it's not really an action game, but first and mainly a strategy and memory game.
- Hmmmm, 9 because I love to see jailbreak on MSX – but was something invented here?
Polish – 11/18
- I am not fully convinced. The in-game options are great (gas stations, places to hide, police cars behaviors) but I am really lacking checkpoints within each stage.
- This is the weak point of the game. There are several bugs that affect the gameplay, so I feel it is not a 'finished' product.
- Good quality game, you will never be deceived !
Gameplay – 18,3/28
- When you have understood the real nature of the game and learnt to detect some traps, the playability is really good.
- Controls are very good, car drives fast, brakes are strong. Dynamics and turns I like. Sometimes a little glitch. Oh, that police car cought me… well, maybe I need better glasses as it was not even 'nearby'!
- Overall, it is a nice game to play, but I found several bugs that affect gameplay and made me stop playing more. These bugs are: some vehicles freezes next to a open passage, so I can't continue (stage 3). The card item is not picked sometimes when you pass over it, I get stuck between to cars near a corner, I went though a car and overlaped it, I got a black screen after loosing all lives. And on real hardware some roads are blocked by invisible obstacles, and there are slowdowns in music and scroll. I don't like that the visible area when moving verticaly is not enough to see if there is a car going in the opposite direction. I liked the 'alternative roads' idea.
Final Comments
- As usual, Infinite made a nice game, with good musics, that incite to play. If the team manage to fix some gameplay problems, Jailbreak will be serious candidate to spend time playing it. But since this is an MSX2 contest, the game MUST perfectly work on real hardware, not only on emulators.
- Try this game, you'll become fast an addict !
- Great performance from Infinite, Jailbreak is definitevely great playing. Only it is difficult, certainly too difficult. Would have liked easier stages to begin with. OK to increase difficulty the further you advance in the game, but here you need already a lot of patience to achieve Level 1 (remember we are not anymore teenagers). I think the potential is here to make this a top MSX game! Nevertheless the game is neat, great graphics, good sounds… a 50 Dutch guilder one if we were a few decades ago even if there are some glitches here and there.
2. The Adventures of Moron van der Slut – Escape from Castro Castro – 57,3%
1st for the polish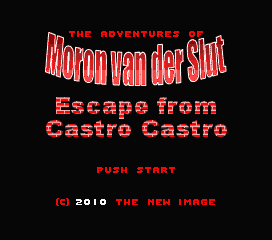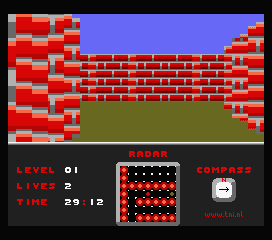 Graphics/Visuals – 10,7/18
- There are not many graphics in the game, and the ones used are just correct but blocky, due to the nature of the game.
- Great, remembered me of the early 3D games, but good to see MSX as wel. Great graphics considering the platform.
- With exception for some rare full screen pictures, the graphics look too simple, even if we need to consider the 3D challenge on MSX.
Musics/SFX – 8,3/18
- OK, better than nothing. But I'm lacking some excitement while running through the maze. Ever wonder what?
- An excellent music on the intro screen and then almost nothing in the game itself. Why ?
- Nice intro tune, but I miss some ingame musics or sounds.
Originality – 10,3/18
- We have here some new ideas as the moving electrified barriers.
- Would I be in 1986, I would have given 17. In 1988, 14. In 1990, 13. In 2010, still the average… though it has been seen and seen over.
- It is a very simple 3D maze style clone.
Polish – 12/18
- Average. The kompass is fortunately of good help. Watch it out to find the path to exit.
- Since this game is technically nice, I will score this category over the rest ones.
- I have the feeling that the 3D core was a difficult challenge and there was no more place for improvement.
Gameplay – 16/28
- The playability is not evident and it's more a question of luck to avoid the moving electrified barriers. Only some gamers will enjoy this too difficult game.
- It is difficult to play using only the 3D view, so I spent most of the time looking at the 2D map. Also, there is any reference of the exit point, so I need to wander the labyrinth which is not funny. After reaching level 9, I feel like not playing anymore. Energy barriers added some variety, but not enough.
- Controls are great, game runs super smooth. It's well realised.
Final Comments
- Technicaly is a well done work, but a game must be something funny that makes you play again and again, but this is not the case. The New Image can make almost whatever they want with our MSX (technically speaking) so if they manage to get a good game designer their games will rock.
- Catchy 100%. Where the heck is that fucking exit?
- Good ideas for a game, but it's a boring game.