Since many years, the MSXdev' contests have a great success in the MSX community. They are the living proofs of the MSX Revival. They have inspired other contests with different rules (for example MSX-BASIC games or MSX2 games) and were also inspired by challenges organized by the MSX Resource Center. Besides that, some new games are released outside a contest.
Many MSX fans think it could be interesting to present all these extra games on the MSXdev' website. The building of the new site has been conceived in this perspective. So, from this day, you can see a new section : [Other].
In this section, the MSXdev' team presents these extra games, most of them will be directly available on this website. In some cases, we'll link only to the website of the developers, as there are different sensibilities in the MSX universe. In all cases : more games, more fun

We start this section with Cubic Duel, a 3D isometric action game for 2 players, created in MSX-BASIC by a Spanish coder, Joaquim Vidal Juventench, also expert in high quality designs and animations for Concrete Digital Designs.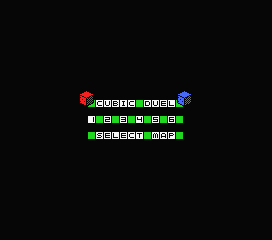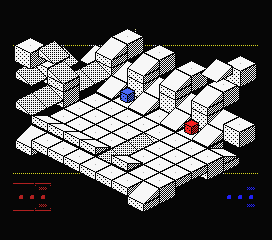 The game is a little tribute to 3D isometric ZX Spectrum games such as Bobby Bearing and Highway Encounter. It includes 6 different screens. You need to make 3 moves on a magnetic area and try to come at the location of your enemy with the 3rd move !
By sympathy for the MSXdev' contest, Joaquim Vidal Juventench has given us the authorization to publish his game on the MSXdev' website. So it was a good opportunity to open this new section ! You can find on his website also older MSX games.
The original game is in 3 formats : DSK, CAS and WAV. We have slightly modified the DSK version to make it auto-executable and converted it into a ROM version (64 Kb – Used mapper : KonamiSCC). Tip for a fast drawing of the screen : launch the ROM version on a MSXturboR machine !